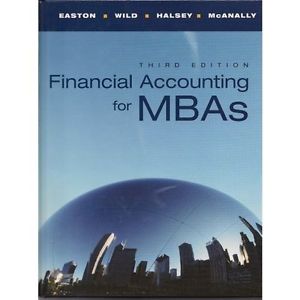 Category
Abstract
FINANCIAL & MANAGERIAL ACCOUNTING FOR MBAS IS MANAGERIALLY ORIENTED AND FOCUSES ON THE MOST SALIENT ASPECTS OF ACCOUNTING. IT TEACHES MBA STUDENTS HOW TO READ, ANALYZE, AND INTERPRET ACCOUNTING DATA TO MAKE INFORMED BUSINESS DECISIONS. THIS TEXTBOOK MAKES ACCOUNTING ENGAGING, RELEVANT, AND CONTEMPORARY. TO THAT END, IT CONSISTENTLY INCORPORATES REAL COMPANY DATA, BOTH IN THE BODY OF EACH MODULE AND THROUGHOUT ASSIGNMENT MATERIAL.
ISBN
0978727932
Author(s)
WILD, JOHN J. , EASTON, PETER D. , HALSEY, ROBERT F. , MCANALLY, MARY LEA
Credits
Edition
3RD ED.
Year
2013
Publisher
CAMBRIDGE BUSINESS PUBLISHERS
Type
BOOK
Keywords
FINANCE, ACCOUNTING, MBA
Language
English
Collation
100 P., 30 CM.