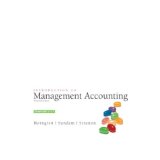 Category
Abstract
GET REFRESHED WITH HORNGREN/SUNDEM/STRATTON'SINTRODUCTION TO MANAGEMENT ACCOUNTING, 13TH EDITION.THIS BEST-SELLING BOOK OFFERS A RELEVANT,REAL-WORLD DECISION-MAKINGAPPROACH TO MANAGEMENT ACCOUNTING. READERS DEVELOP A SOLID UNDERSTANDING OF COSTS AND COST BEHAVIOR AND THE USE OF COST INFORMATION FOR PLANNING AND CONTROL DECISIONS, NOT JUST INVENTORY VALUATION. THIS BOOK EMPHASIZES THE NOTION THAT "YOU NEED TO UNDERSTAND THE BUSINESS FIRST, BEFORE YOU CAN UNDERSTAND THE ACCOUNTING OF BUSINESS."UPDATED TO COVER THE MOST RECENT METHODS IN MANAGEMENT ACCOUNTING, TOPICS INCLUDE: COST BEHAVIOR, COST MANAGEMENT SYSTEMS, AND ACTIVITY-BASED COSTING; MARKETING AND PRODUCT DECISIONS; THE MASTER BUDGET; FLEXIBLE BUDGET AND VARIANCE ANALYSIS; MANAGEMENT CONTROL SYSTEMS; CAPITAL BUDGETING; COST ALLOCATION; ANDJOB-COSTING AND PROCESS-COSTING SYSTEMS; BASIC ACCOUNTING CONCEPTS, TECHNIQUES, AND CONVENTIONS; CORPORATE FINANCIAL REPORTS AND BASIC FINANCIAL STATEMENTS; AND CONSOLIDATED FINANCIAL STATEMENTS.AN EXCELLENT REFERENCE RESOURCE FOR MANAGERIAL ACCOUNTANTS.
ISBN
0131440713
Author(s)
STRATTON, WILLIAM O. , HORNGREN, CHARLES T., 1926- , SUNDEM, GARY L.
Credits
Edition
13TH ED.
Year
2005
Publisher
PEARSON/PRENTICE HALL
Type
BOOK
Keywords
ACCOUNTING, MANAGEMENT
Language
English
Collation
674 P., 30 CM.