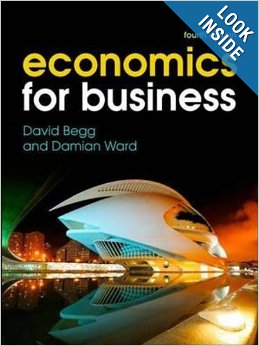 Category
Abstract
ECONOMICS FOR BUSINESS, 4TH EDITION, IS AN ESSENTIAL INTRODUCTION TO ECONOMICS, TAILOR- MADE FOR BUSINESS STUDENTS. THE TEXT DEMONSTRATES THE RELEVANCE OF APPLYING ECONOMICS PRINCIPLES TO SOLVE BUSINESS PROBLEMS AND EQUIPS STUDENTS WITH THE TOOLS TO CONFRONT REAL BUSINESS SITUATIONS. KEY ECONOMICS THEORIES ARE CLEARLY EXPLAINED WITHIN THE CONTEXT OF MODERN BUSINESS. DRAWING ON A WEALTH OF CONTEMPORARY EXAMPLES TO BRING THE TOPICS TO LIFE.
ISBN
0077139453
Author(s)
WARD, DAMIAN , BEGG, DAVID K. H.
Credits
Edition
4TH ED.
Year
2013
Publisher
MCGRAW-HILL HIGHER EDUCATION
Type
BOOK
Keywords
ECONOMICS
Language
English
Collation
451 P., 25 CM.