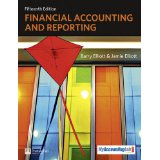 Category
Abstract
THE MARKET- LEADING TEXT OFFERS A COMPREHENSIVE OVERVIEW OF FINANCIAL ACCOUNTING AND REPORTING. WITH ANNUAL UPDATES, FINANCIAL ACCOUNTING AND REPORTING FEATURES COMPLETELY UP- TO- DATE COVERAGE OF INTERNATIONAL ACCOUNTING STANDARDS (IAS).
ISBN
9780273760795
Author(s)
ELLIOTT, BARRY , ELLIOTT, JAMIE
Credits
Edition
15TH ED.
Year
2012
Publisher
PRENTICE HALL AND FINANCIAL TIMES
Type
BOOK
Keywords
FINANCIAL ACCOUNTING
Language
English
Collation
893 P., 26 CM.