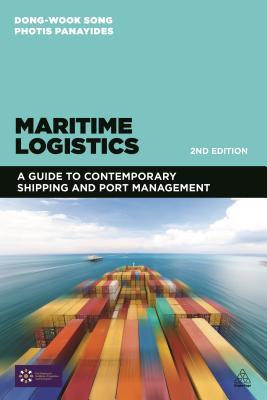 Category
Abstract
MARITIME LOGISTICS COVERS THE WHOLE SCOPE OF MARITIME LOGISTICS AND EXAMINES LATEST LOGISTICAL DEVELOPMENTS WITHIN THE PORT AND SHIPPING INDUSTRY. WITH A RANGE OF NEW INTERNATIONAL CONTRIBUTORS, THIS NEW EDITION HAS BEEN THOROUGHLY REVISED AND UPDATED. THERE ARE NEW CHAPTERS ON PORT CENTRIC LOGISTICS, HINTERLAND LOGISTICS AND GLOBAL SUPPLY CHAINS, MARITIME TRANSPORT AND LOGISTICS AS A TRADE FACILITATOR, AND FUTURE TRENDS AND DEVELOPMENTS. WRITTEN BY A TEAM OF INTERNATIONAL EXPERTS WITH OVER FIFTY YEARS' EXPERIENCE IN THE FIELD, MARITIME LOGISTICS PROVIDES A TRULY GLOBAL PERSPECTIVE. THE BOOK COVERS EVERYTHING THAT STUDENTS OF LOGISTICS, AS WELL AS THOSE WORKING WITHIN THE INDUSTRY, NEED TO KNOW ABOUT MARITIME LOGISTICS, INCLUDING SHIPPING LINES, CONTAINERS, TANKERS, DRY BULK, PORT-CENTRIC LOGISTICS, AND MUCH MORE. THE BOOK INCLUDES CONTRIBUTIONS FROM LEADING PRACTITIONERS AND ACADEMICS IN THE FIELD. THE NEW EDITION INCLUDES A VARIETY OF NEW CONTRIBUTORS, INCLUDING: A. MICHAEL KNEMEYER, ASSOCIATE PROFESSOR OF LOGISTICS, FISHER COLLEGE OF BUSINESS, THE OHIO STATE UNIVERSITY; JOHN P. SALDANHA, ASSISTANT PROFESSOR OF LOGISTICS, FISHER COLLEGE OF BUSINESS, THE OHIO STATE UNIVERSITY; PROF. DR. MICHELE ACCIARO, ASSISTANT PROFESSOR OF MARITIME LOGISTICS, THE KLU, HAMBURG; PROF. DR. JOERN MEISSNER, PROFESSOR OF SUPPLY CHAIN MANAGEMENT & PRICING STRATEGY, THE KLU, HAMBURG.
ISBN
9780749472689
Author(s)
PANAYIDES, PHOTIS M. , SONG, DONG-WOOK
Credits
Edition
2ND ED.
Year
2015
Publisher
KOGAN PAGE
Type
BOOK
Keywords
SHIPPING -- MANAGEMENT, HARBORS -- MANAGEMENT, BUSINESS LOGISTICS, GLOBALIZATION
Language
English
Collation
446 P., 24 CM.