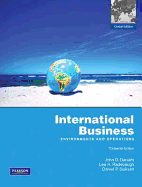 Category
Abstract
STUDENTS, FACULTY, AND MANAGERS PRAISE THIS BOOK FOR ITS COMPELLING BALANCE BETWEEN RIGOROUS, AUTHORITATIVE THEORY AND MEANINGFUL PRACTICE WITHIN THE CONTEXT OF A FRESH, CURRENT ANALYSIS OF THE INTERNATIONAL BUSINESS ENVIRONMENT. INDEED, THIS BOOK NOT ONLY DESCRIBES THE IDEAS OF INTERNATIONAL BUSINESS BUT ALSO USES CONTEMPORARY EXAMPLES, SENARIOS, AND CASES TO MAKE SENSE OF WHAT MANAGERS DO AND SHOULD DO.
ISBN
9780273756002
Author(s)
DANIELS, JOHN D. , SULLIVAN, DANIEL P. , LEE H. RADEBAUGH
Credits
Edition
13TH ED.
Year
2011
Publisher
PEARSON
Type
BOOK
Keywords
INTERNATIONAL BUSINESS
Language
English
Collation
882 P., 25 CM.