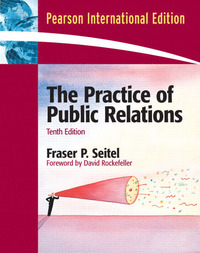 Category
Abstract
LONG ADMIRED AS THE "PRACTITIONERS" PUBLIC RELATIONS TEXT, SEITEL'S THE PRACTICE OF PUBLIC RELATIONS CONTINUES ITS TRADITION AS THE MOST VISUAL, UP-TO-DATE AND STRAIGHTFORWARD PRINCIPLES TEXT AVAILABLE. FOR THE ASPIRING STUDENT OF PUBLIC RELATIONS TO THE VETERAN PROFESSIONAL SEEKING A REFRESHER, SEITEL'S TEXT LEADS THE READER THRU THE EVOLUTION OF THE PRACTICE, THE PREPARATION AND PROCESS NECESSARY TO REACH A VARIETY OF "PUBLICS" AND MOST IMPORTANTLY HOW TO IMPLEMENT ACTUAL PR PRACTICE. DRAWING ON HIS OWN VAST PROFESSIONAL EXPERIENCE, HIS ROLE AS A PR COMMENTATOR ON MAJOR U.S TELEVISION NETWORKS SUCH AS CNN, ABC AND FOX, AND HIS NETWORK OF INDUSTRY LEADERS, PUBLIC RELATIONS FACULTY AND GENERATIONS OF PR PROFESSIONALS, SEITEL PRESENTS THE INDUSTRY WITH DYNAMISM AND RELEVANCY.
ISBN
0132038625
Author(s)
SEITEL, FRASER P.
Credits
Edition
10TH ED.
Year
2007
Publisher
PEARSON PRENTICE HALL
Type
BOOK
Keywords
PUBLIC RELATIONS, MARKETING COMMUNICATION
Language
English
Collation
442 P. : ILL. (SOME COL.) ; 26 CM.