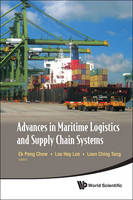 Category
Abstract
THIS TIMELY BOOK DISCUSSES THE RECENT DEVELOPMENTS IN MARITIME LOGISTICS, AN IMPORTANT SPECIALIZED AREA FOR THE GLOBAL ECONOMY. IT INCLUDES ISSUES SUCH AS THE RECENT ECONOMIC CRISIS, PORT COMPETITION AND DEVELOPMENT, AND PROVIDES INSIGHTS AND TRENDS RELATING TO THESE ISSUES. CONSISTING OF RENOWNED RESEARCHERS WORLDWIDE, THE PRIMARY OBJECTIVE OF THE BOOK IDENTIFIES SOME OF THE NEW PROBLEMS AND CHALLENGES FACED AND INNOVATIVE SOLUTIONS TO ADDRESS THESE PROBLEMS.
ISBN
9789814329859
Author(s)
CHEW, EK PENG, 1963- , LEE, LOO HAY , TANG, LOON CHING
Credits
Edition
1ST ED.
Year
2011
Publisher
WORLD SCIENTIFIC PUBLISHING CO.PTE.LTD.
Type
BOOK
Keywords
MARITIME LOGISTICS, SHIPPING
Language
English
Collation
315 P., 20 CM.