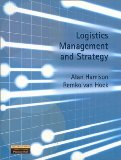 Category
Abstract
THIS BOOK PROVIDES A VALUABLE GUIDE FOR ALL THOSE SEEKING A PRACTICAL APPROACH TO MODERN LOGISTICS MANAGEMENT AND STRATEGY.
ISBN
9780273646747
Author(s)
HOEK, REMKO I. VAN , HARRISON, ALAN, 1944-
Credits
Edition
1ST EDITIO
Year
2002
Publisher
FINANCIAL TIMES, PRENTICE HALL
Type
BOOK
Keywords
LOGISTICS , MANAGEMENT AND STRATEGY
Language
English
Collation
281 P., 25 CM.