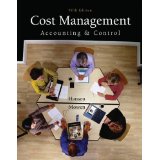 Category
Abstract
COST MANAGEMENT : ACCOUNTING AND CONTROL, EMPHASIZES THAT CHANGING CONDITIONS OFTEN REQUIRE A CHANGE IN COST MANAGEMENT SYSTEMS. EMPHASIZING THIS POINT STRESSES THE DYNAMIC AND EXCITING NATURE OF THE FIELD. BY TAKING A SYSTEMS APPROACH -- ONE THAT FIRST COVERS FUNCTIONAL-BASED COST AND CONTROL AND THEN ACTIVITY-BASED COST SYSTEMS STUDENTS UNDERSTAND HOW TO MANAGE ANY COST MANAGEMENT SYSTEM.
ISBN
0324233108
Author(s)
MOWEN, MARYANNE M. , HANSEN, DON R.
Credits
Edition
5TH ED.
Year
2006
Publisher
THOMSON, SOUTH WESTERN
Type
BOOK
Keywords
ACCOUNTING
Language
English
Collation
1004 P. : COL. ILL. ; 28 CM.