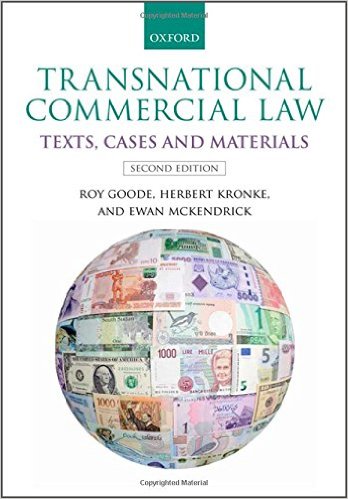 Category
Abstract
IN THIS EDITION THE WORK HAS BEEN COMPLETELY REVISED AND UPDATED, COVERING A NUMBER OF NEW OR SUBSTANTIALLY REVISED INTERNATIONAL INSTRUMENTS. IN ADDITION THREE NEW CHAPTERS HAVE BEEN ADDED BY SPECIALIST CONTRIBUTORS DEALING WITH REGIONAL HARMONIZATION, CARRIAGE OF GOODS BY SEA, AND THE RELATIONSHIP BETWEEN INTERNATIONAL CONVENTIONS AND NATIONAL LAW. THE AUTHORITY OF THE TEXT IS ENHANCED BY THE FACT THAT ALL THE AUTHORS HAVE PLAYED LEADING ROLES IN THE DRAFTING AND DEVELOPMENT OF MANY OF THE INSTRUMENTS EXAMINED IN THE WORK.
ISBN
9780198735441
Author(s)
MCKENDRICK, EWAN , GOODE, ROYSTON MILES , KRONKE, HERBERT
Credits
Edition
2ND ED.
Year
2015
Publisher
OXFORD UNIVERSITY PRESS
Type
BOOK
Keywords
LAW--COMMERCIAL LAW COMMERCIAL LAW--TRANSACTIONS COMMERCIAL LAW--CASES
Language
English
Collation
lvii, 705 P., 25 CM.