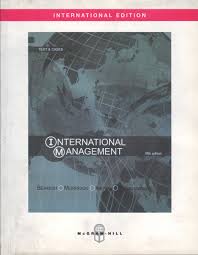 Category
Abstract
INTERNATIONAL MANAGEMENT : TEXT AND CASES IS A TRULY INTERNATIONAL MANAGEMENT TEXT. BY DESCRIBING HOW FIRMS BECOME AND REMAIN INTERNATIONAL IN SCOPE , THIS NEW EDITION COVERS THE EXPERIENCES OF FIRMS OF ALL SIXES , FROM MANY COUNTRIES AND REGIONS , AS THEY COME TO GRIPS WITH AN INCREASINGLY COMPETITIVE GLOBAL ENVIRONMENT.
ISBN
0071151400
Author(s)
ALLEN J. MORRISON , PAUL W. BEAMISH , PHILIP M. ROSENZWEIG , ANDREW C. INKPEN
Credits
Edition
5TH ED.
Year
2003
Publisher
MCGRAW-HILL INTERNATIONAL EDITIONS
Type
BOOK
Keywords
INTERNATIONAL BUSINESS
Language
English
Collation
738 P., 25 CM.