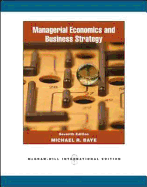 Category
Abstract
THE SEVENTH EDITION RETAINS ALL OF THE KEY SIGNATURE FEATURES OF PREVIOUS EDITIONS AND INCORPORATES NEW FEATURES TO ENHANCE STUDENTS LEARNING EXPERIENCES AND MAKE IT EASIER TO TEACH FROM THE BOOK. THESE INCLUDE UPDATED HEADLINES, NEW AND UPDATED INSIDE BUSINESS APPLICATIONS, AND NEW END- OF CHAPTER MATERIAL.
ISBN
9780071267441
Author(s)
BAYE, MICHAEL R., 1958-
Credits
Edition
7TH ED.
Year
2010
Publisher
MCGRAW-HILL INTERNATIONAL EDITION
Type
BOOK
Keywords
ECONOMICS
Language
English
Collation
621 P., 25 CM.